Thirty Birds Massage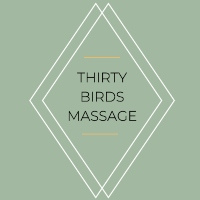 Thirty Birds Massage is a tailored, personalised Massage and Relaxation Therapy practice, led by Sarah Louise Kernan, whose primary focus centres on encouraging and supporting her client's Self-care through allowing the client to relax, de-stress, unwind & reconnect their body with their mind.
A Thirty Birds Massage and Relaxation Session is aimed at boosting mental health by managing tension in the body, helping to lower stress & anxiety levels.
Using Swedish, Light-Touch and Relaxation Massage Techniques as well as incorporating ASMR (Autonomous Sensory Meridian Response), along with elements of Breathwork, Sound Therapy, Meditation and Mindfulness - each session at Thirty Birds Massage is Designed to Suit each Client's individual needs, preferences & specifications.
Thirty Birds Massage is delighted to offer a fantastic range of treatments and packages as well as gift vouchers for that special, perfect gift – the gift of calm.
Located beside Arnold's Hotel in the beautiful and bustling village of Dunfanaghy, Co. Donegal – stepping inside the massage studio, leaving your stresses, worries and busyness of life behind you is the perfect answer to letting go of the hustle and bustle of our modern lives.
Sarah looks forward to welcoming you and helping you arrive at your relaxation destination and pre-booking your session ahead is highly advised - especially during peak seasonal times, as sessions are limited.
Opening Hours:
Mon: Closed
Tue: 4pm–7:30pm
Wed: 12pm–7:30pm
Thu: 12pm–7:30pm
Fri: 12pm–6pm
Sat: 12pm–6pm
Sun: Closed
Contact Us
WhatsApp or Text Message: +353 83 831 4433
Calmomile Beauty by Valerie
Contact Valerie for all your beauty needs!